THE VIRGIN IS NOT JUST ABOUT THE CHURCH - SHE IS MEXICO
Curiously, the power of belief in the Virgin of Guadalupe has little to do with membership or attendance in the church. In fact, it is said that while 89 of 100 Mexicans are Catholic, it is certain that 100 of 100 Mexicans are Guadalupanas, devotees to the Virgin.
Octavio Paz, Mexican thinker, writer and Nobel prize recipient said, "When Mexicans no longer believe in anything, they will still hold fast to their belief in two things: the National Lottery and the Virgin of Guadalupe. In this I think they will do well. For both have been known to work, even for those of us who believe in nothing."
The Virgin IS Mexico - fiesta and fervor, food and devoted song, dance and penance. She is the image, the icon that gave birth to a nation and that is the cornerstone of national pride and strength, a symbol of the homeland.
THE VIRGIN IS A SYMBOL OF THE HOMELAND, PATRIOTISM, NATIONALISM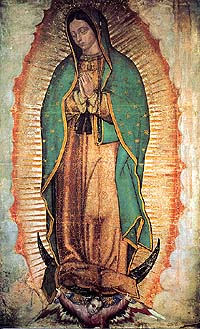 It has been said that from the moment of her appearance, Guadalupe was a time bomb moving steadily through three centuries to explode into a call for freedom from the oppression of Spain. It was the image of Guadalupe in 1810 that graced the banners of Padre Miguel Hidalgo y Costilla, father of Mexican Independence, as he led the country through 10 years of war for liberty.
The first president of the Republic, Felix Fernandez changed his name to the very symbolic Guadalupe Victoria.
In 1859 when the government of the first Indian president, Benito Juarez divided church and state, the only remaining religious holiday in the country was December 12, the Day of the Virgin of Guadalupe. The fierce Battle of 5th of May against the French was waged and won at the Hill of Guadalupe, site of the Virgin's Sanctuary.
Is it any wonder, then, that while in other countries, the First Lady of the land is the wife of the President or Ruler, the Virgin of Guadalupe is the First Lady of Mexico, Mother of all Mexicans and Queen of the Americas.
This information comes from:
http://www.mexconnect.com/mex_/travel/jking/jkguadalupe.html#
the_virgin_is_not_just_about_the_church_-_she_is_mexico